Originally posted by Jordan Fujiwara.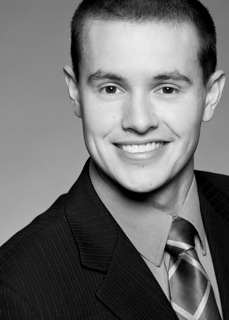 Before I introduce Dave Wolters, I'd like to mention that it's a very exciting time here at the Management Building: The new Class of 2012 has arrived and is going through their orientation! I've been able to meet at least half of them and hope to be able to capture some of their early thoughts / first impressions on the program for this blog. I was inspired to interview Dave because one of the newcomers said they'd be very interested in learning about his position at the Privy Council Office of Canada. So here it is!
Dave is from Winnipeg, Manitoba. He holds a BComm (Honours) from the University of Manitoba and is affectionately known by the current cohort as "SuperDave." Dave jokes that he got the nickname "by getting into a lot of accidents" but truth be told, this writer (and Dave himself) aren't entirely sure of the origins of the nickname. I'll just blame Lars or something.
Also, I'm writing this on his birthday! Happy birthday, Dave!
When it comes to Dave's corporate residency at the Privy Council Office, most of the goings-on there are classified! However, Dave was able to share some information about what the office does and some of the projects he's been working on: "The PCO is a central agency that supports and provides policy advice to the Prime Minister and Cabinet. There are lots of different areas. I work in the Intergovernmental Affairs department as a Junior Policy Analyst. Most of my projects are long term. I was working on one that looked at government collaboration with specific emergency situations and generating a report for that. I'm working on a business continuity plan that brought together five different business plans that had some redundancies. I'm also looking at technology in the workplace, like how Web 2.0 tools might be able to improve efficiency in the office." Sounds like an interesting and variable workload. As for workplace culture, Dave says, "It's a very diverse group of people. There are lots of different perspectives and a range of experience too: lots of young people starting their careers and people who have been working in various government departments for years."
Outside of work, Dave has enjoyed getting to know his Corporate Residency MBA roommates James and Zach a lot better. He too met Stéphane Dion, which he says was a pretty cool experience to have while living in Ottawa. Back before work, Dave most enjoyed the "live case" aspects of the academic portion of the MBA. He mentioned the marketing project most of us undertook where we worked on presenting ideas/critique/praise/strategy for our own program (the Corporate Residency MBA marketing team and members of the agency we use sat in on this). Dave also mentioned the Management Without Borders course where his team produced a white paper on the commercialization of tidal power in the Bay of Fundy for a firm called Growth Equity Partners. "I would love to do more of that. It was great to be able to work with an actual company, to have people pay attention, be able to apply what you've learned in school and solve problems."
Dave had some high expectations coming into the program: "Well, it's an MBA, right? I was expecting good quality classes and to be surrounded by top notch people. It's lived up to it in that sense. I've enjoyed it a lot. Everyone that's here wants and deserves to be here. I like being around students who are focussed and driven; you don't have to worry about getting stuck in a lazy group."
Like many have mentioned before him, there are challenges. "One of the hardest things about working right now is being away from Joanne." Dave's fiancée/sugar mama lives in Halifax, while he has been in Ottawa since January. They will be happily reunited in mid-August when his residency comes to a close. "As for school, the toughest part was right around the end of November, beginning of December, with everything happening at the same time," recalls Dave. "Every day: working 14 hours then going to sleep then getting up and doing it again." Dave's solution to getting through that? Energy drinks… maybe a few shawarmas as well. And "just powering through – keeping the end goal in mind!"
That is all for this week! Hopefully I'll be able to collect some thoughts from the new class soon, maybe after they've had a taste of the first summer courses. Either way, check back next Thursday for another story!