Discovering Nova Scotia's apple diversity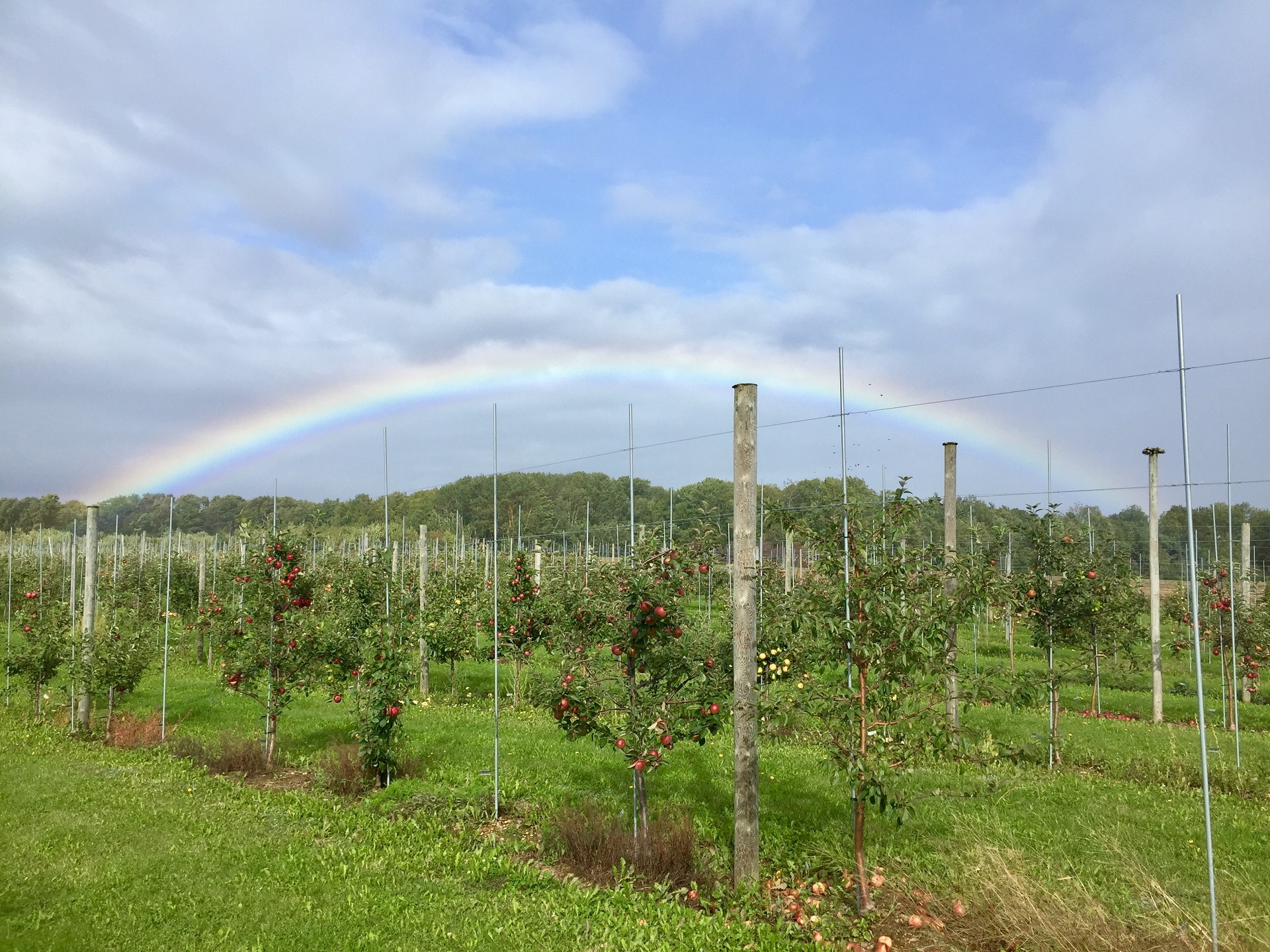 One of the largest, most diverse apple orchards in the world is found in Kentville, Nova Scotia. This orchard has over 1,000 cultivars of apples from over 40 different countries. To put the number of cultivars into perspective, if you ate an apple a day from this orchard, it would take you over three years to try every apple. I managed to taste 800 of them in the span of a fall and what I learned is that not all of them are ones you would want to eat. Some apples in the orchard are so astringent they dry your mouth out, while others are disappointingly mealy. This orchard is unusual , but every tree was planted specifically to help researchers, like myself, create better apples.
In the fall it is hard to imagine how we could improve upon a freshly-picked apple, but by looking at broader apple diversity it becomes clear that we could be missing out on interesting flavours, shapes and colours. At the orchard in Kentville there are apples that are sweet and taste like cotton candy while others are sour and citrusy. Taking a bite of some cultivars will reveal bright red flesh and others have strikingly dark outer skin that almost appears black. This orchard can help us shake things up by presenting new traits that can be incorporated into cultivars. In contrast, the grocery store shelf usually has only a handful of apple cultivars, many of which tend to be related to one another. Metaphorically speaking, the apple has not fallen far from the tree as many of the popularly-grown cultivars can be traced back to a few, well-known cultivars such as MacIntosh, Red Delicious and Golden Delicious. Historically, when we find a winning cultivar, we tend to keep using it to breed other cultivars. This underscores the importance of orchards, like the one in Kentville, to preserve cultivars that might otherwise slip out of use.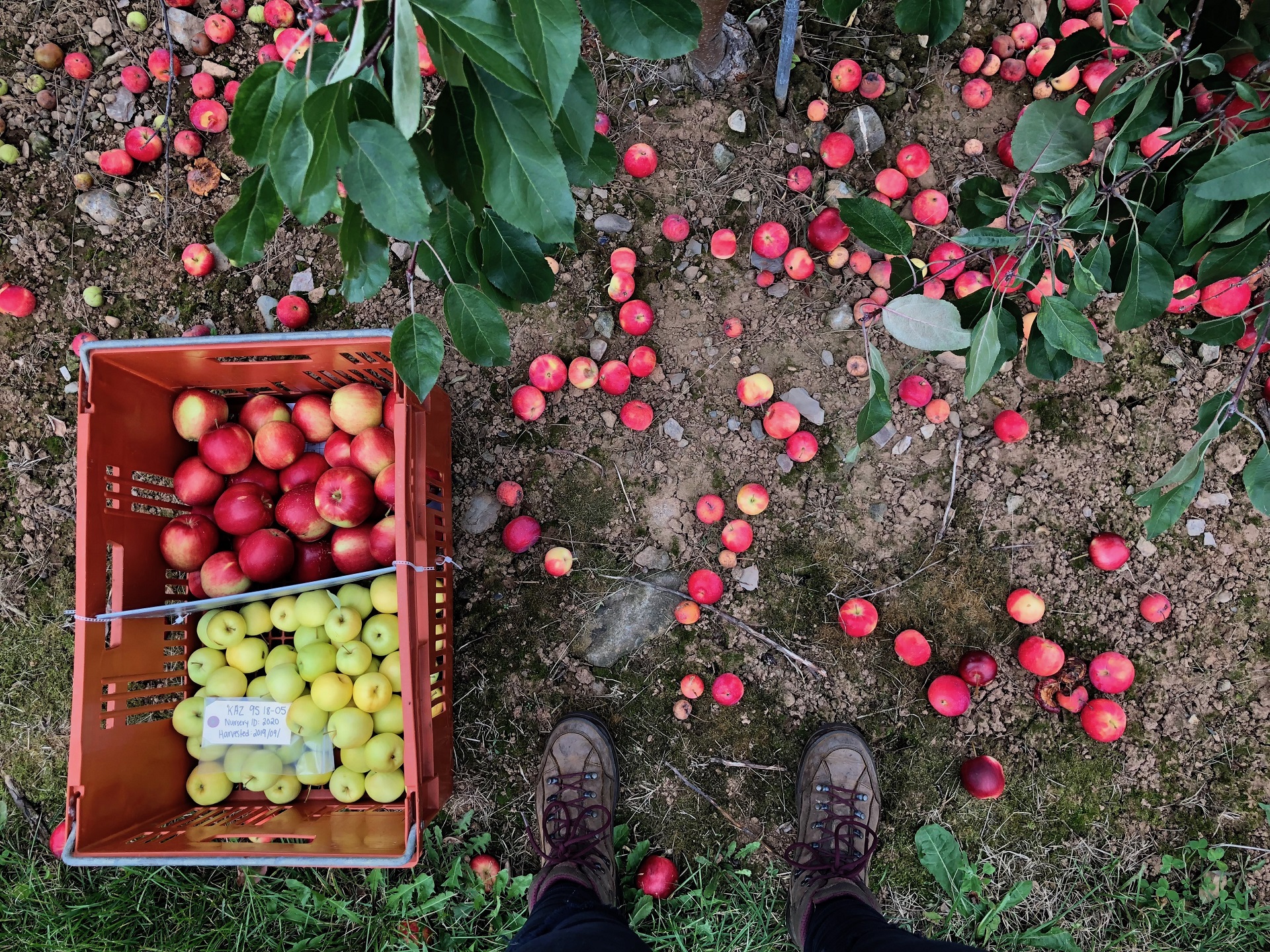 Across apple diversity there are apple trees well-suited to withstand diseases, pests and different growing conditions, and we need to keep these traits if we are going to create apples that not only taste good but that keep pace with our changing climate. Crop diversity is often referred to as a safety net, as it provides a large genetic pool that gives crops a buffer to adapt to changes in the environment. Within the orchard in Kentville there are domesticated apples that we have intentionally cultivated and eaten for centuries but alongside them you will also find their wild relatives. I would not recommend eating these wild apples unless you are ready to spit them out. Wild apple trees are special because they have endured harsh climates without the tender care that domesticated apple trees in orchards receive. Therefore, wild relatives are often well adapted to withstand disease and pest pressures better than their domesticated counterparts. Although wild apple cultivars may taste terrible, they tend to have other traits that are beneficial.
Pairing desirable traits together is something we can achieve through plant breeding. The foundation of this involves tapping into genetic diversity. I study the orchard in Kentville to identify genes that control useful traits across apple diversity to breed better apples. For instance, I try to figure out what genes allow apples to store for a long time or what traits make them crispy and sweet. By uncovering the genetic control of key traits, we can intentionally and more efficiently breed apples using traditional methods or new genomic tools.
The extent to which we are able to breed tastier and more climate resilient apples relies on us protecting, studying and putting to use the immense diversity that exists in apples. To adapt to climate change and meet the challenges it presents to growing food, we must extend our view beyond what we currently reach for on the grocery store shelf. The sustainability of apple cultivation, along with many other agricultural crops, depends on diversity.
All photos taken by Sophie Watts