Commemorate, but not venerate? The material challenges of statues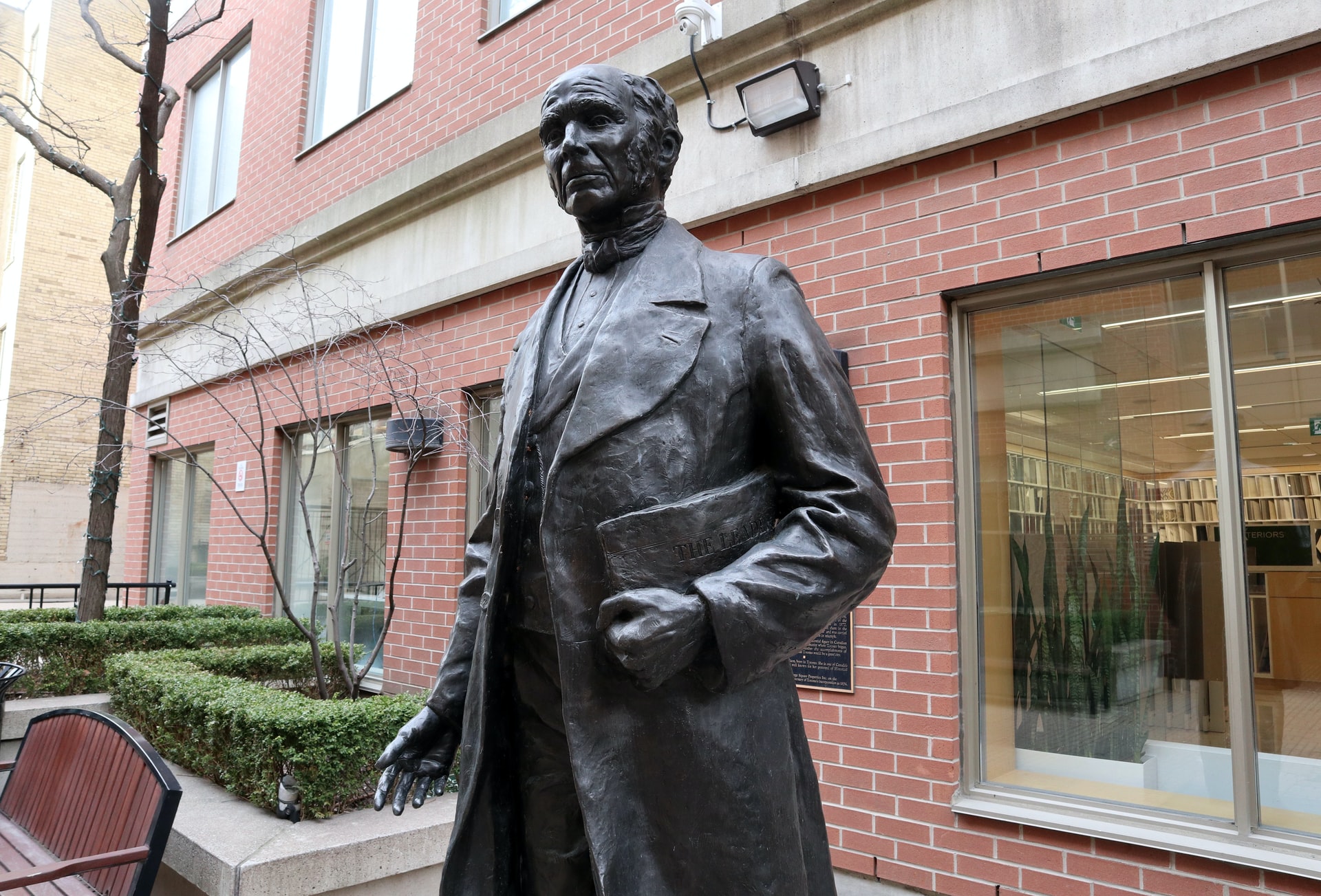 In the wake of the 2015 Truth and Reconciliation Commission (TRC), a series of recommendations were made to Canadian cultural heritage institutions to address the ongoing colonial attitudes present in Canadian history. These recommendations were taken particularly seriously by Parks Canada, who in 2019 published a new National Historic Sites System Plan entitled "Framework for History and Commemoration." This is the most recent action plan produced by Parks Canada. In addition to addressing how the organization's interpretation would address the cultural changes related to "technology, globalization, the mobility of people and environmental upheaval," Parks Canada laid out how it would ensure that its sites of commemoration better reflected all Canadians, especially Indigenous peoples and their experiences of colonization.
In an appendix, the Heritage Sites and Monument Board of Canada (HSMBC) addressed the concerns of the public regarding their commemorations and designations process. They especially laid out how their iconic bronze plaques, which are created to memorialize their designations and commemorations, were selected and written. The HSMBC assured the public that they had reflected on both the recommendations of the TRC and the calls for commemoration removals or reappraisals. They acknowledged that "historical interpretations of the past are constantly evolving" and that "historical interpretations should emphasize a full range of voices, perspectives and experiences." That is why, as the HSMBC goes on to explain, since the 1990s public opinion has played a key role in selecting designations and commemorations. Furthermore, "subject matter experts, stakeholders and communities are consulted and provide feedback on the text [of the plaques]." Finally, "all comments are taken into account and this public input improves the text before it is approved and cast in bronze." If complaints are made about the commemorative plaques, then there is also a process in place to reevaluate and reappraise the scrutinized plaque.
The HSMBC concludes with an acknowledgment that plaques have their limitations. They can only present so much information and sometimes subject matter is difficult to commemorate with a plaque. Therefore, the HSMBC was also looking into new forms of commemoration, such as "virtual commemorations, artworks and healing practices." Further detail was not provided on what these commemorations are or how they will be implemented within this report.
While I have no doubt of the good intentions of the HSMBC and I applaud them for embracing much of criticism that has been leveled against their commemorative sites, there is an unresolved tension that still exists between their process and their form of commemoration, that largely being their iconic bronze plaques. The HSMBC opens their statement with: "Commemoration is not celebration in the context of the HSMBC's work. An ongoing challenge for the HSMBC has been the public perception that designations and commemorative plaques are positive and honourific celebrations of persons, places and events." They go on to describe how other organizations' plaques may do this, but celebration is not the mandate of the HSMBC.
After reading this report, I was left with two critiques: the first being contextual and the second being material. Firstly, the report does little to directly address issues that were ongoing at the time of its publication. It draws on very specific examples, such as the Halifax Explosion, to illustrate designations that commemorate but do not celebrate. Yet, it addressed none of the ongoing disputes over designations of colonial figures, such as John A. Macdonald, who traditionally have been heralded as Canadian heroes. Issues of commemorating colonialism are only directly discussed when the matter had been resolved, such as the addition of Mi'kmaq to the title and sign at Skmaqn–Port-la-Joye–Fort Amherst National Historic Site in Prince Edward Island. While this report pre-dates the murder of George Floyd and the subsequent movement which resulted in the removal and vandalizing of hundreds of statues in Canada, there were already public calls from across the country asking for colonial monuments to be reviewed. Given the context and timing of this report, it seems odd that these issues were not directly addressed.
Secondly, the HSMBC would benefit from a material cultural review as well as a content review of their monuments. If we take at face value the argument that people confuse monuments and plaques as always being celebratory, the report does nothing to address the real underlying issue there: why do people assume bronze plaques are celebrations? This speaks to a greater, material culture problem. We exist within millennia of art tradition that tells us to understand statues, plaques, and other memorials as symbols of power, honour, and veneration. There is a deeper psychology at work here and it is more complicated than being able to decide that your plaques are not honourific.
Furthermore, the amount of public consultation the HSMBC conducts seems undermined by the decision to cast in bronze the selected words of the committee. It is contradictory to promote diverse opinions and embrace the changing nature of heritage and history, and then go on to defend a form of commemoration that by its very essence is not meant to change and is designed to last for generations.
I understand that the HSMBC has a tradition and mandate that they are protecting. And certainly, designations from the Board and their plaques can be empowering for the people, places and events they represent. But more work needs to be done to address these tensions in commemoration. Additionally, as CJ Pentland explored, decolonizing commemoration requires forms that embrace the emotions of colonial violence. Hopefully, the proposed new forms of commemoration will be up to this challenge.
Photo by Justin Ziadeh on Unsplash