Aquaponics: Nutrients and Energy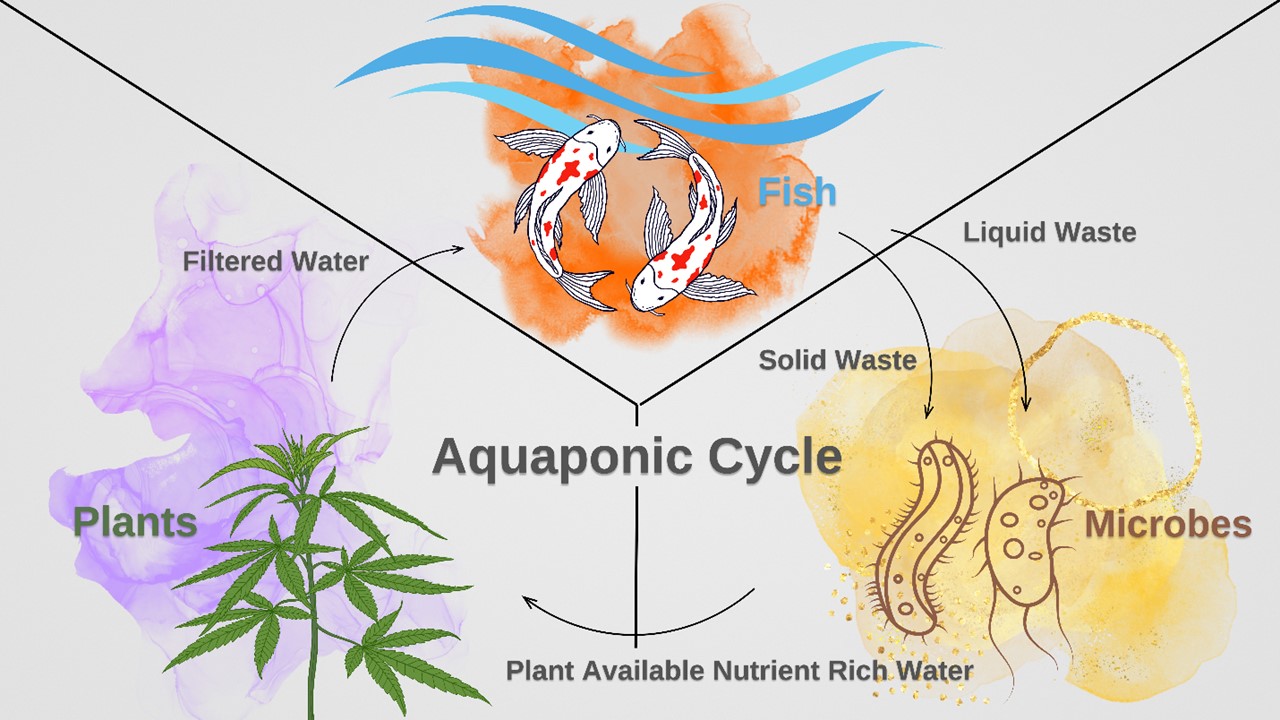 Imagine a flooded rice field on a warm, overcast day. You see koi swimming between the rows of swaying rice, picking insects and their eggs off rice shoots, rooting through the mud for worms. The koi's waste drops to the mud, which is teeming with microbes waiting to compost it into fertilizer, which the rice then absorbs. You have just seen an aquaponics system -one version- but the same ideas apply whether it is farming koi in Nova Scotia, salmon in Wisconsin, or shrimp in space. 
Aquaponics is an emerging, sustainable crop production system that combines fish farming (aquaculture) and plant farming (hydroponics) in an engineered ecosystem. Aquaponics mimics the nutrient cycling seen in natural aquatic ecosystems, like ponds, resulting in a more efficient use of inputs, with less waste released into the environment. 
In all ecosystems, food serves two main purposes: first, its nutrients are the building blocks to grow new tissues and repair damaged ones, and second, its energy provides the fuel needed for growth/repair. No organism is 100% efficient at processing its food, and anything not used for growth or energy gets excreted as waste. But one organism's waste can be another one's dinner. 
In our rice field, the koi will eat the insects/animals/algae they need to survive. Some of that food is for energy, some for physical growth, the rest is excreted into the field's water as either dissolved/liquid waste (through the gills and urine), or solid waste (faeces). If the field contained only fish and fish food (i.e. no microbes or plants), this waste would quickly build up to a toxic level, killing the koi. 
Fortunately for the koi, a zoo of naturally occurring microbes can make use of the nutrients and energy still contained in their waste. Rather than build up, it feeds the microbes (bacteria, archaea, protozoa) that live in the water, on surfaces, and in the mud. Just like with koi, these microbes use the nutrients to grow and multiply and extract energy to provide fuel for growth. Any nutrients not incorporated into the microbes are released back into the field water.  This makes water that is full of dissolved nutrients, but low on energy. Even though the composted waste/dissolved nutrients are safer for the koi than the un-composted koi waste was, if the field contained only fish and microbes, these dissolved nutrients would eventually build up to a toxic level too. 
This is where the rice comes in. Plants generate the energy they need to grow from the sun using photosynthesis, meaning they do not need to consume food for energy. However, plants still require nutrients to grow and build new tissues, which makes the low-energy, high nutrient water created by our koi and microbes perfect for rice growth.  When the rice absorbs the waste nutrients, filtering the water, it prevents the toxic build-up of waste, keeping the field safe for the fish. 
Large-scale/commercial aquaponics systems take this natural flow of nutrients/energy (fish -> microbes -> plants) and turn it up to 11. This is where the engineering comes in. Advanced aquaculture technologies grow fish at higher densities with more food than fish can find in nature, advanced filtration technologies optimize the environment for microbes so they can process the high volume of waste into dissolved nutrients, and innovative plant production technologies are deployed to extract and use these nutrients to grow high-value crops like organic leafy greens or cannabis. 
The aquaponics cycle, described above and shown in the picture below, is simple. But just because something is simple doesn't make it easy. Over the next ten months, this blog will take us on a journey through the weird and wonderful world of aquaponics, fish, microbes, and plants. How they work, how they fit together, what's needed for aquaponics to become more commonplace, and why you should want that to happen. 
Graphic by Ethan Cooper and Danielle Maitland.