My fellow Dalhousie Open Thinkers and I have each agreed to use our final blog to answer the question: what do we owe each other? I think we owe each other whatever steps may be necessary to achieve a sustainable and just society. While I certainly don't claim to know all the necessary steps, I have come to believe that some of them lead back to Indigenous teachings.
I can think of no better way to communicate this perspective than through my personal dream mythology. I have recorded and interpreted hundreds of my own dreams over the years, and I am occasionally amazed by the deep symbolic stories expressed in "big dreams". This dream symbolism is essentially mythology (see C.G. Jung), which has been a powerful educational tool for thousands of years.
This is the story of a dream I had last spring:
I am high up on a snow-covered mountain with an unidentified companion and an Elder, who is our Indigenous guide. We are walking up a long and shallow slope, and the summit never seems to get closer. My companion and I have pushed well ahead of the Elder, and as we climb we see an avalanche triggered in the distance ahead of us. It feels like a response to our ascent, but it is far enough away that we are unconcerned. We continue to climb, but it soon becomes clear that the avalanche will reach us. I turn around to see the Elder standing in place well behind, and I sense that he is wise enough to know the safe distance. We rush back and get behind the Elder. The avalanche slows to a stop at his feet.
The dream felt significant. After much reflection, I see the symbolism clearly:
– The snow-covered mountain represents the world and its physical limitations.
– The unidentified companion represents modern human society.
– The long and shallow slope represents a never-ending mission to gain more and more.
– The avalanche represents environmental breakdown.
– The Elder represents Indigenous wisdom.
– The safe distance represents a sustainable way of life.
Now go back and read the dream again with the bold symbolism in mind. I am new to painting, but I thought the illustration below might help with the story.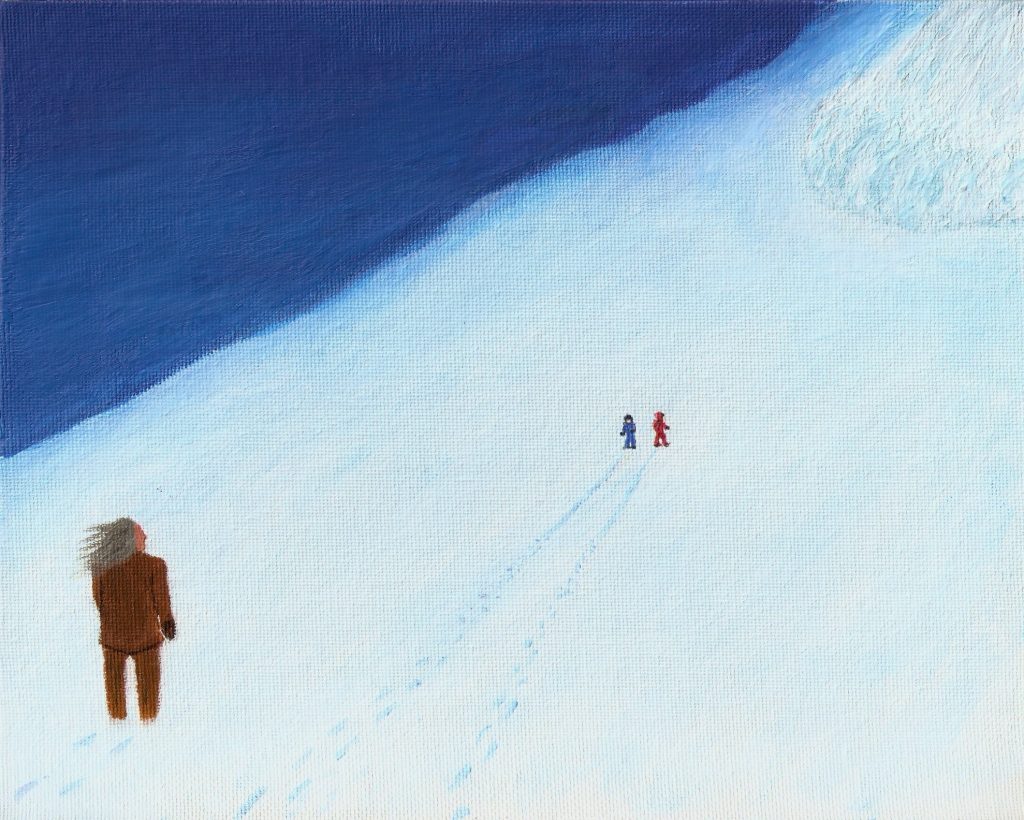 Wisdom Left Behind (acrylic on canvas)
This dream story expresses my belief that our growth-addicted economic system is carrying us towards environmental catastrophe (the subject of my last blog). Human activity already exceeds several planetary boundaries, and this will only worsen as we continue to increase extraction, consumption, and waste, year after year. Renewable energy is an improvement, but in the long run it will only enable us to push a little further up the economic mountain. If the goal is a sustainable and just society, then something deeper needs to change.
The dream story also expresses my belief that sustainability is really about aligning the modern world with Indigenous teachings. The lessons I have learned from Indigenous cultures in recent years have changed my worldview in ways I wish for everyone, and I know I will continue to learn and change in the years to come.
One thing I've come to understand is that what we call "natural resources" are more like gifts from relatives. We are all part of one balanced living system, where everything connects to and affects everything else. Taking for ourselves is taking from ourselves. Giving back is receiving. If you take too much and give back too little, the system starts to die. These fundamental concepts are central to Indigenous cultures, but they are missing from our current economic system and collective worldview.
I invite you to watch this speech, in which Teyotsihstokwáthe Dakota Brant describes the original laws governing the relationships between her Haudenosaunee ancestors, other nations, the natural world, and future generations. She explains that "it is the role of nations to remind each other to leave some for each other, for future generations to enjoy, and for Creation to replenish itself." It's a simple teaching of sharing, conserving, and regenerating Earth's limited resources, and the modern world must learn to follow it.
As humanity has climbed the economic mountain, Indigenous Peoples across the globe have been not just ignored, but violently oppressed through genocidal tactics so their territories could be exploited in the name of the climb. It is time for us in the modern world to turn our eyes away from the endless ascent, address the many mistakes made so far, and humble ourselves behind the true experts in sustainable living. We certainly owe this to Indigenous Peoples, but we owe it to each other too.
We should all take it upon ourselves to truly understand what Indigenous leaders have been saying and doing, and let these lessons inspire change and action in our lives. If enough of us can take these steps at the individual level, then I think we stand a much better chance of taking the right steps at a societal level, and we just might escape the coming avalanche.