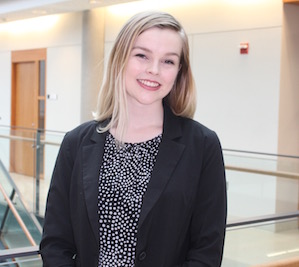 Name: Olivia Koetke
Program/major: Bachelor of Management (Management and Globalization)
Career aspirations: I am interested in a career in consulting that would allow me to work in a fast-paced, international environment.
Why were you interested in taking this course, Doing Business in Emerging Markets?
World travel has been a lifelong passion of mine, so I was extremely interested when I first heard about this course. I transferred into Management after spending two years studying Costume Design, so a full-term study abroad was never a viable option for me because it would delay my graduation even further. This course gave me the opportunity to gain international experience without prolonging my undergraduate studies. As I learned more about the program, I was drawn to the experiential learning aspect. The course provides a unique opportunity for students from the BMgmt, BComm and CRMBA programs to work with real companies. Everyone brings a different perspective to the table and it makes for a really interesting and dynamic learning environment.
What do you expect to learn from your visit to Chile and Argentina?
I hope to gain an understanding of the local business cultures of Santiago and Buenos Aires. I look forward to learning from local experts during our corporate visits, and I hope to verify some of the hypotheses we have made during our research. There are limitations to researching emerging markets, which have become more apparent in working on the first stages of our project in Canada. I hope that during our visit we can pick up on the cultural nuances that can only be experienced by visiting these countries.
How do you think this experience will impact your future career?
This experience has already impacted my future career. Before this course, I was uncertain as to which career path I should pursue after graduation. I have enjoyed this course so much that it has really focused my career aspirations toward something international. This program is a unique and enriching learning experience, and I believe that potential employers will see the value of that.