If you are graduating this fall or in the upcoming spring and have never heard of rotational or leadership development programs before, read on!  They may be the perfect solution for establishing yourself as a professional while enhancing your exposure to a given company and enhancing your growth potential within it. So what are they exactly?
Rotational programs provide new graduates with the opportunity to explore the various functions of an organization. By the time you have completed the program, you should have a well-rounded understanding of how the organization operates and how different departments interact.
Development programs offer a slightly different experience, but are also a powerful step to launch a career. The programs are designed to accelerate career growth, personal development, and early roles of responsibility.
Here are some examples of employers that offer programs like these:
Labatt
Anheuser-Busch InBev (Labatt Breweries of Canada) offers a variety of graduate programs: Global Management Trainee Program, Logistics Development Program, Brewery Development Program, and Sales Development Program.
The Global Management Trainee Program is a rotational program where new graduates receive intensive instruction – or as they call it, a "deep dive" – into different business functions. Participants travel to different worksites across North America as they progress through the program. Check out the infographic below for an outline of their 10-month schedule: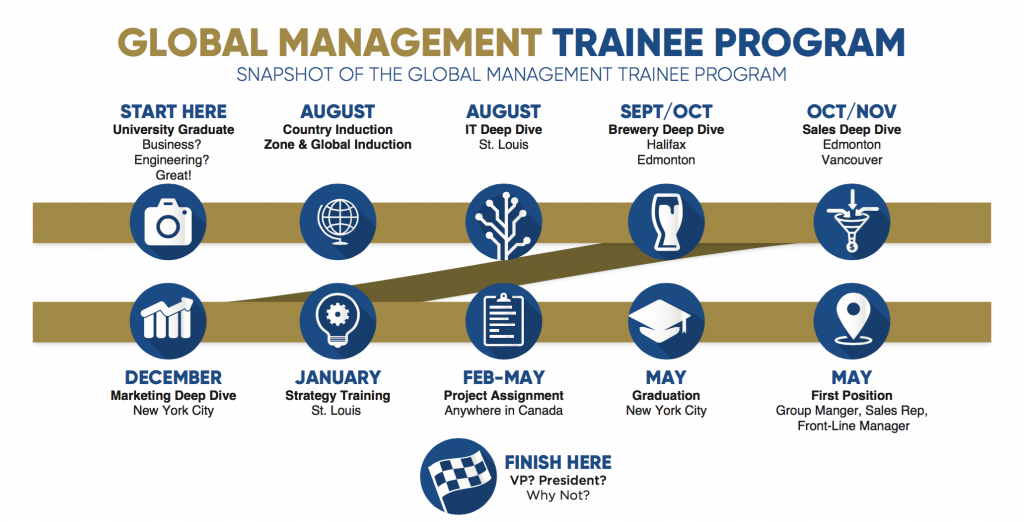 RBC
Royal Bank of Canada has new-graduate programs over four areas of the organization, including personal & commercial banking, capital markets, global technology and operations, and global functions. Most programs are 12 months and some include mentorship and rotational positions.
Other examples include:
The time to apply is now
Most graduate rotational and leadership development programs conduct their application and hiring process in September, some start even earlier. If you are interested in learning more or want to apply, visit the site links provided above and look for relevant job postings on myCareer under the Career Services section of the site. You may also have the opportunity to connect directly with recruiters for these companies on campus, as some will be hosting information sessions this fall. Check the myCareer event calendar to see the full event list and register to attend.