William Robinson, the 2013 artist-in-residence at the Killam Memorial Library, is presenting Brutalist Song II in the Killam atrium on Sunday, May 8. Performances will be thirty minutes each at 2, 3, 4, and 5 p.m.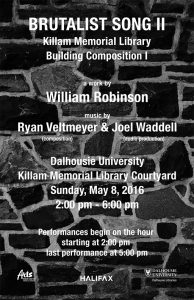 During his 2013 residency, William developed a sculpture of the Killam that played a "song" as it turned past a sensor. The project was called Brutalist Song, the title referring to the style of architecture of the Killam. Inspired by the building and his time here, William has since developed Brutalist Song II. This presentation involves sculpture and sound, featuring multiple musicians playing horns and an electric organ.
William Robinson lives and works in Halifax. His practice includes a variety of media such as site-specific installation, performance, video, musical composition, sculpture and printed matter. His ongoing research explores how sound and music can extricate social and historical narratives resting dormant within particular sites and built environments. He has exhibited nationally and internationally, having shown in New York, Bergen, and Berlin, as well as in Toronto at Nuit Blanche and in Halifax at Nocturne
Currently he is investigating the material, cultural, and sonic transmutation of certain metal objects and their related manufacturing processes. William is a recipient of a Canada Council for the Arts Audio Research Grant (2016) and he has been long-listed for the Sobey Art Award for the Atlantic region (2016).