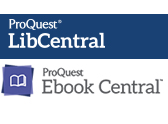 To ensure their ebook platforms remain updated and secure, ProQuest will be performing maintenance on Ebook Central and LibCentral in January 2019, which will result in no access to these platforms during the maintenance period.
This maintenance will take place Saturday, January 5, 1–3 p.m. AST and Saturday, January 19 starting at 11 p.m. and ending on Sunday, January 20 at  7 a.m., AST.
Proquest apologizes for the inconvenience.