Effective communication with faculty and staff is an essential factor within a distributed program. The large geographic separation between individuals prohibits the in-person and informal communications that can occur within a single-site educational program. Communication technology plays an important role in community building and maintenance, information exchange, faculty and staff development, and promotion of social, learning, and research events.
There are two main modes of communication, push and pull. Information can be pushed to individuals (email, mail, fax, phone, radio, notice boards) or pulled by individuals (web portal, RSS feeds, others?). Faculty and staff interested in learning more about RSS should check out this recent post (especially the last part).
Regardless of whether it's push or pull, the effectiveness of the communication method depends upon the suitability and utility of the information made available to the individual. We now work in an information saturated environment, so it is important that messages we receive are appropriate, being relevant, useful, and timely.
I (personally) don't need to know that the fire alarm will be tested in the Saint John campus library (because I am in Halifax), and sending me that message would not be appropriate (not relevant to my location).  When messages are relevant to an individual (by location, responsibilities, interests, or needs), it is important the message is also useful and timely.  A message must provide useful details (title, time, location of event) and be timely (delivered with suitable time so I can fit into my schedule), otherwise I am wasting my time in considering the information.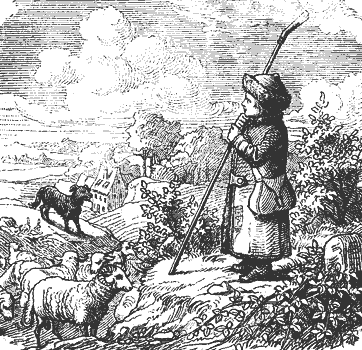 Email has certainly revolutionized how we exchange  information; messages are delivered rapidly, at no cost, to a wide number of people.  However, email channels have also become saturated, with inboxes filling up faster and faster.  With increasing email delivery, people have less and less time to spend on each message. To be effective, email messages must become ever more clear, concise, and to the point.
Inappropriate institutional emails (or other communications) can represent a modern day representation of Aesop's fable of the Boy Who Cried Wolf, irrelevant messages being delivered over a period of time become ignored, so that when important and relevant messages are received they are not given the attention they deserve.
Wolf!  Wolf!
I recently did an informal assessment of an internal Faculty of Medicine email digest system, and found that of the 3700 emails that were delivered, only 10 people clicked on the second notice (near the top), resulting in a confirmed readership of 0.003.  I'm not surprised by the apparently low readership, for when I have spoken to faculty and staff at distributed sites I often hear that they immediately delete the messages and wonder why they get them.
Seeking Solutions
So, with a problem identified, we might wish to explore what the solution to this modern day Aesop's fable.
Appropriateness:  For a pushed message to be delivered to the appropriate individuals, we need to be able to identify (tag) the target audience(s), and also have our audiences suitably tagged.  Where are they located; what are their interests; what are their needs?  The message should be useful and timely, to all of those that receive it.  An appropriate pushed message needs to be linked to a suitable contact management system. Blasting emails indiscriminately is at the root of the modern Aesop fable.
Evaluation: The only way to determine whether the communication system is effective is to ensure that it includes evaluation criteria.  How many people actually received the message; how many acted as a response to the message?
Does anybody know of a suitable technology solution? Share your thoughts and comments.