Originally posted by Jordan Fujiwara.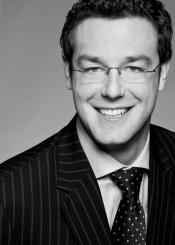 The ambitious Jeff Pond is originally from Ancaster, Ontario. He completed a BA in Sociology here at Dalhousie before deciding to tackle the Corporate Residency MBA. Currently, he's not only managing a unique corporate residency at Wilson Executive Search and CareerWorx, but he's also the President of the MBA Society, putting together a Dalhousie Football Club and helping to organize the annual A Toast to the Coast (a charitable event that raises money for the Canadian Breast Cancer Foundation). Whew! And I thought I was busy.
I met Jeff at his office to interview him. It's an interesting place: one of those big old houses you often see in Halifax, converted into a suite of offices and boardrooms. It's got a very homey feel to it, which reflects the atmosphere and work culture at Wilson Executive Search and CareerWorx. As a Recruitment Specialist, Jeff says, "one thing that I like [about the job] is that we treat you like you're in our home." What does a Recruitment Specialist do, you might ask? Simply put, companies outsource their recruitment efforts to companies like the one Jeff is working for, then Jeff helps find and assess candidates for positions ranging from middle- to top-level management. "Reviewing résumés, conducting interviews and completing reference checks are a big part of what I do. I also have get a good gauge of the job marketplace. This has been an experience second to none… I'm meeting with senior level executives, founders of multimillion dollar companies. At 24 years old I didn't think that was going to be the case; it's been a real eye opener."
Not unlike some of the other students we've spoken to who are in the financial sector, Jeff is getting exposed to a lot of different industries. But in a fundamentally different way: "We're in the business of people. Meeting with folks of different calibre, from small business to multinational, and from industries such as accounting, architecture, engineering, and manufacturing gives great insight into the business world."
Take a guess as to whether or not Mr. Pond is enjoying his corporate residency. In case you're having trouble deciding, here's a bit more: "I don't know what to expect on any given day – human behaviour is unpredictable, you don't know what a person is going to do or say or how they'll react. It leaves you on the edge of your seat at times. But I'd say the most exciting experience I've had so far was when I completed my first search – in other words placed my first candidate. Recruiting people for companies isn't the easiest thing; if it were easy, everyone would do it."
Still not sure? Well here's the answer: "It's not often that people come to work and enjoy it more and more every day. It's funny, this wasn't something that I thought about when considering my work options last summer, but it's something that I could definitely make a career of." To add to his incredible experience, Jeff also gets to work shoulder to shoulder with the company's President and Founder, Jim Wilson. "It's a very horizontal organization. This office has fun, and one of the best parts of it is being able to work in proximity with someone [like Jim]."
Jeff also shared with me some of his goals as President of the MBA Society. "We're getting things set up for the incoming cohort, such as planning some social events. We want the incoming year to be as engaged and involved as possible and really bridge the gap between first and second years." That's an important goal, as many of us in the program feel that the bond that was created between the first group of forty is some special. In Jeff's words: "It's not often you get put together into such a large group of people from different backgrounds and are able to grow together. We're like a big family. So when you spend that much time with each other you need to be comfortable where you are. It really entices students and gets them engaged and participating in the program. So to the new students: keep your eyes and ears open, learn from every experience you have, learn from your peers and be ready to jump in headfirst. The learning experience will be meaningful and the relationships you form will last well after the program has finished. Those who want to can really have one Hell of a time here."
He's one hundred percent right; I couldn't agree more. We'll see you next Thursday!