Republished from Faculty of Management, news-events
Posted by 
Mallory Rae
 on September 29, 2021 in 
News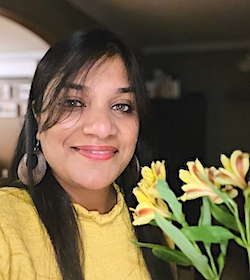 Deepika Mathur is an administrative assistant in our Centre for Executive and Graduate Education (CEGE). Deepika started at Dalhousie in 2015 in Financial Services and moved to CEGE about five years ago.
It was nine years ago that Deepika moved from India to Canada with her family. Her favourite part of living in Nova Scotia is always being near the water—it's just a short drive to the ocean or a beautiful lake. In India, Deepika worked as a German language specialist. She speaks Hindi, English and German and would like to learn French next.
What Deepika enjoys most about her role at Dalhousie is the continuous learning. She is always helping her team with new projects and tasks and often is learning about different systems in place across Dal. Her favourite time of year is convocation when all the students and their families are happy and proud of their achievements.
Deepika is looking forward to the time when convocation will be in person again so she can see the excited buzz return to campus. She is also anticipating traveling again; one of the reasons she learned German was to be able to travel for work. Her first trip with her family (pictured right, camping with Milo) after the pandemic will be to Hawaii, Europe or Florida, to take her daughter to Disney World and Universal Studios.
Deepika's advice to any new staff member is to go out and meet people in other faculties and departments and always be on the lookout for new opportunities. Her recommendation for the best spot on campus is the lawn by the administrative building—she goes there to relax and eat lunch on nice days.