Where do I start, it was a great trip with a great bunch of students that had fun, worked hard and made it an exceptional experience for all! I have so many photos and memories so I thought I would share some of them.
We had our first sighting of an elephant even before we arrived:
We first went to Storm's River Mouth Rest Camp: 
The view from the staff cabin:
At Storm's River Mouth we did a couple of hikes, which were requested by AWE 2016…the students enjoyed the 2 hikes, me not so much!!!
The first hike started easy, 1 km to the suspension bridges…yeah my kind of hike!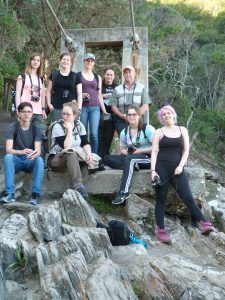 We got our first sighting of a Knysna Lourie (sorry Dan…turaco)
see if you can spot it.
Other critters along the way:
and
And then we went UP!!!
But worse was to come…2nd hike was part of the first day of the Otter Trail, and the sign said not to attempt it if you were not fit!
At the start…     
Then it got a bit more difficult…this is a path…
this is not…
And this is a goat path, Andrew!!
We all survived that, actually the students, Dan and Sarah loved the hikes, me…well let's just say next trip I am staying at the cabin and cooking supper for when they return hungry!!!
Tomorrow I will continue my views of the trip!