Sarah and I have once more embarked on another exciting trip with 15 new excited students from the Agricultural and Halifax campuses to introduce them to South African culture and wildlife in our African Wildlife Ecology course.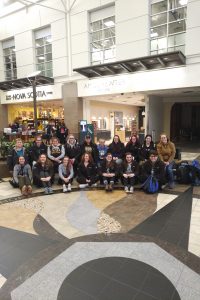 We started off very fresh and excited but after 2 flights we're not looking so fresh!
still excited though! We have reached Heathrow and our 8.5 hr wait is slowly coming to an end. Our next stop is South Africa landing in Johannesburg and then onto Port Elizabeth.
Katie G. : This trip will be a great experience and learning opportunity! This trip will give an amazing invite into various habitats and the animals that call them home.
Morgyn : A once in a lifetime chance to check this locale off my bucket list, and also study the amazing diverse wildlife as a part of a classroom experience. Totally pumped!
Emily: This trip will give me the chance to witness a variety of unique species and to practice research techniques that will aid me in my future veterinary studies!
Callie: This is the trip of a lifetime! I am excited to study a variety of African wildlife in their natural habitat; adding this field course to the list of amazing experiences I've had at Dal.
Ève: I am excited to be back in South Africa for the second time, it will definitely be another trip to remember. I'm looking forward to enjoy the scenery and the wildlife view South Africa has to offer. Looking forward to some field work experience!!
Marissa: I'm super excited to get to see all the wildlife in South Africa and get to experience African ecology first hand. It's gonna be awesome to live on a game reserve for a few weeks. This trip is gonna be one for the books!
Janessa: To be able to see the wildlife and their habitats up-close-and-personal is going to be a real thrill! I think the best way to learn about something is to completely immerse yourself in it, therefore I think we will all gain some invaluable knowledge and experience. I'm looking forward to learning about the animals and how they interact with each other and their surroundings. I can't wait for all of the outdoor activities!
Jenna: I am excited to experience a new environment and the different flora and fauna, especially the elephant. I can't wait to experience this once in a life time opportunity!
Katie S.: I am extremely excited to see the animals of course, however I am also excited to learn more about a non-Canadian culture as well as various, successful, conservation tactics!
Taylor: This trip will introduce me to exotic animals that I have only ever seen in captivity before. To see them in the wild and observe their true behaviours will be amazing. I am also looking forward to experiencing a new culture and a different way of life from what I am used to. I cannot wait for the up close and personal experiences that are soon to come!
Vincent: Looking forward to learning new skills and seeing new landscapes. It's going to be a trip of a lifetime to see such animals in their true nature and capture moments that not many people can experience!
Ireland: I am beyond excited to be able to experience the wide variety of animals and environments in South Africa, and discover the incredible nature of their life in the wild. Learning about the hands on techniques of conservation and such is going to be super interesting.
Bailey: I am very excited to learn about things I have only been able to read about in textbooks. I am also hopeful that this experience will beneficial to my future studies in both animal science and veterinary medicine.
Christine: I am looking forward to experiencing a new culture and enjoying this once in a lifetime opportunity
Stephanie: I was excited to leave Canada because I have never travelled and I am looking forward to seeing the deserve wildlife. Especially the big cats.
Everyone handled the 40 hours of travel well with no real hiccups. We are now at Storms River Mouth, very tired and going to bed early. Tomorrow the real work begins.
That's it for now. Wifi is a bit intermittent so we might not be able to blog every day until we get to Amakhala, just wanted everyone out there that we all arrived safe and sound!