Last night, we went to the Sidbury Cricket Club to meet a few of the locals in the area. Sadly, we didn't really get to meet any new locals except for our guides but we still had an amazing time! This did cause for a bit of tired faces sitting around the breakfast table but we did get to see an AMAZING red sunrise so that made up for being so tired.
After breakfast we made our way to the classroom and the wind was so crazy I thought we were going to get blown away! Thankfully, we didn't but we all got a nice face and mouth full of dirt. Giles Gush, the owner here, taught us how to do a game count. When the wind calmed down a bit, we went out to do our own game count! (This just means that we need to record all the animals that we see within a certain area) My group saw lots of different animals including 2 beautiful male elephants playing around with each other and 43 impala all together with a gemsbok right smack in the middle!! After the count, Jessica did some observational work for her project and within 2 minutes of us stopping, Maddie and I had passed out for a much-needed snooze!! Thankfully she had lots of observational work to do, so we got a nice 40-minute nap outside on the Land Cruiser (one of the best naps I have ever taken, and I nap a lot).
After lunch we all went horseback riding except for Dan, Megan and Ashley who Giles took out for a game drive behind us. Janine had tea and cookies back at the house with Jenn (And yes, she did feed the horses ginger snaps). Jessica got to ride a zebra!! Kidding, but her horse had painted like a zebra for a school group and it didn't wash out!! It was a really fun experience and we got to see giraffes, but we weren't able to go close on the horses. Dan, Megan, Ashley and Giles however, did get to go up close to them!! Hopefully next time we all will!!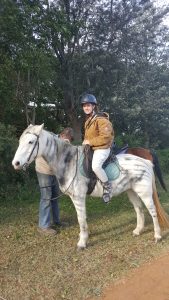 Tonight for dinner, Giles and his family joined us and we got to pick their brains a bit and learn how to open up a game reserve. We learned lots of interesting information and everyone decided that if we win the lottery, we would be calling Giles!  Tomorrow we get to do a 8km 'Fun' run!
Thanks for reading our blog, Lenka.