Today we woke up at 5:30am, still in Addo Elephant National Park, to go for an early morning game drive in our van and we saw a few of the same animals BUT also we saw a spotted hyena!! Janine was pretty jealous that she didn't come with us. I (Lenka) did not go on the drive but when I got up, I found that Nikki and Ashley had locked our Forest Hut and taken the key…I had to climb out the window to escape!
On our way to breakfast, we saw 3 vervet monkeys climbing around in the trees! While eating breakfast, Janine messaged us that there were "phones in front" (code for lions walking right by the waterhole – through autocorrect)!! So we all jumped out of our seats and ran down to try and see them, but sadly we missed them.
After breakfast we went for a 'real' game drive in the open window Landrover and had an amazing time! Sadly almost right way, we got a flat tire and had to wait for someone to come with another vehicle; but thankfully it wasn't in a dangerous area. After we got into the new vehicle we went down to the watering hole and there was a parade of elephants' drinking water and shortly after another parade joined them. A bunch of zebras, showing off their butts to us, stood watching the elephants drink. On our way back, an elephant came right next to the vehicle, so close I could've touched her! It was certainly the highlight so far for Megan, her face was in utter shock, she was so happy to see her favourite animal close like that! We even saw a buffalo grazing right next to the vehicle, which was super interesting to watch it eat that close up. After lunch we went for a walk along a path in the National Park  and to a Bouma where we saw an angulate tortoise and buffalo!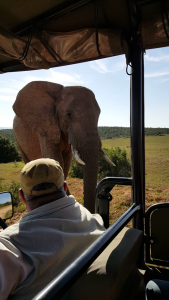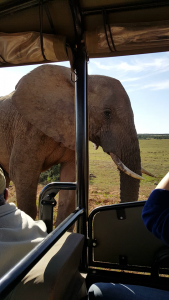 We got a bit of free time today to do some laundry and catch up on some of our work, so some of us went to sit down in the underground hide to see if any animals would come to the watering hole. There was an elephant and her mother that passed by quickly to drink some water. After our free time, we had a lecture given by Dan and his masters student, Gareth, about the impacts of elephants on vegetation and wildlife. Honestly, all the lectures we have had so far have had a large impact on us, but this one sparked a very nice discussion about what we can do to solve these issues with elephants while keeping everyone happy and still be considered ethical for the animals. It was such a good discussion between us and it went on for so long, we decided to head for dinner and continue our discussion at the dinner table!
We ate dinner at the Cattle Baron restaurant tonight, it was a very nice meal. EXCEPT we decided to get dessert and two of the cheesecake slices we ate tasted very, uhm shall we say, tangy and like expired milk. Everyone tried a bite and the taste stayed with us all night – the memory of that cheesecake will haunt those who tasted it forever. It did, however, make for a very nice laughing fit between us and a funny memory.
We got back to our cabins around 9:30 at night, and all wrote in our field journals for a bit before deciding to hit the hay pretty early to get a good start on the next day because we are heading to Amakhala Game Reserve.
This comes compliments of Lenka Wicha.