Today our day started off a little rainy, unfortunately, but that didn't stop us aggies. After breakfast we headed out to the classroom for a very interesting lecture on reptiles from Dr. Shelley Edwards (Herpetologist) a fellow colleague of one of our instructors Dr. Dan Parker. We learned about the different species of reptiles and their distinguishing features. After the lecture we headed out to the fields and did a little bit of herping (reptile finding) ourselves. We found some thick-toed geckos living in a piece of dried out paint, and an angulate tortoise in the bushes. These little guys were very interesting and it was very fascinating to examine them up close and personal.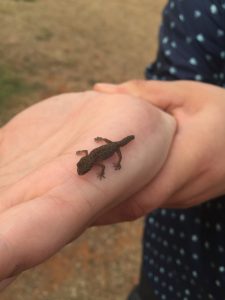 The rest of the day was filled with our finishing touches for our final research projects. We all completed our final data collections and analysis and then started putting it together in a media format to present tomorrow in front of our instructors and guides.
During our free time/work time, we had an unexpected, up-close experience with an elephant at one of our tents. This elephant had strayed from the rest of his herd and was browsing near Summer, Meleigha and Jessica's tent. We closely observed him and were speechless at the magnificent creature in front of us. It was definitely a moment we will never forget!
Later on we had a very fancy dinner where we said thank you to our fellow Amakhala family, as we approach the end of our stay at Amakhala Game Reserve!